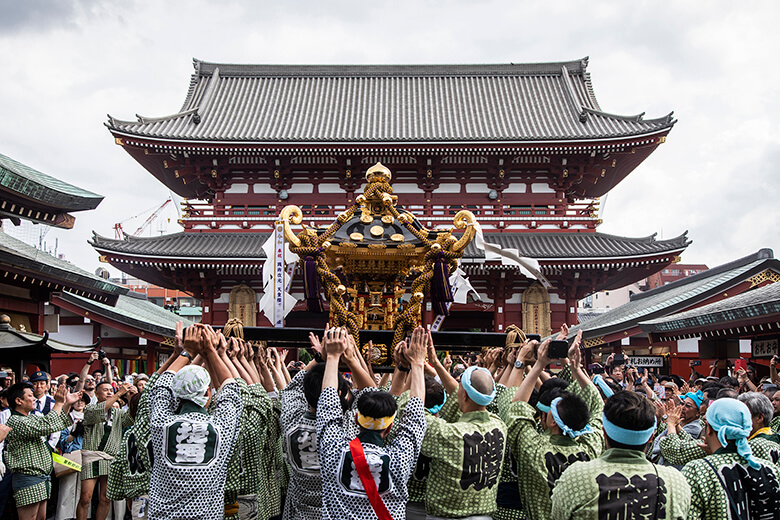 Matsuri, or Japanese festivals, have been bringing local communities and visitors together to celebrate traditions specific to a particular area or neighborhood for hundreds of years. Often linked to a local Shinto shrine, they are deeply embedded in Japanese culture, history and everyday life.

Most matsuri are held annually, often in line with seasonal events like the harvesting of crops or to mark the beginning of a particular season - they can be small in scale lasting just a few hours, or large, loud and boisterous even, spanning several days. Matsuri usually involve dressing up in costume, playing traditional music and dancing/parading through the streets, often with a portable shrine carried on the shoulders of participants. There's almost always an abundance of food and drink available too as well as activities for kids - matsuri welcome guests of all ages and walks of life. If you have the chance, we highly recommend checking one out while you're in Japan!

With that being said, we have compiled a list of the more popular matsuri that take place in and around Tokyo on an annual basis. We have included links to further information for each event where it is available in English.

Please note, occasionally dates may change by a day or two due to adverse weather conditions or other factors so we strongly suggest searching for up-to-date information on any matsuri you plan to attend in the run up to the event itself.
Matsuri often in involve carrying a mikoshi portable shrine through the streets

Hashigo-Nori (Ladder-top Acrobatics)
Date: Early January
Area: in Katsushika-ward, Ikegami Honmonji Temple
Address: Ikegami Honmonji Temple: 1-1-1 Ikegami, Ota-ku, Tokyo

Shimokitazawa Tengu Festival  
Date: Late January
Area: Shimokitazawa Ichiban Shotengai
Address: 2-37-17 Kitazawa, Setagaya City, Tokyo

Related article: https://www.gotokyo.org/en/spot/ev120/index.html

4.0

290 Reviews

Tokyo Ota-ku Ikegami 1-1-1

0337522331

[Prayer Reception] 10:00-15:…

View All

Daruma Kuyo
Date: Early February
Area: Nishi-Arai Daishi Temple
Address: Nishi-Arai Daishi Temple, 1-15-1 Nishi-Arai, Adachi City, Tokyo
Read more: https://nishiaraidaishi.jp/en/event/

Read more: https://www.gotokyo.org/en/spot/ev159/index.html

Tokyo Adachi-ku Nishiarai 1-15-1

0338902345

[Reception hours for Ogoma, …

View All

Bunkyo Ume Matsuri (Plum Festival)
Date: Early February - Early March
Area: Yushima Tenmangu Shrine (also known as Yushima Tenjin)
Address: 3-30-1 Yushima, Bunkyo City, Tokyo

Read more: https://japantravel.navitime.com/en/area/jp/guide/NTJtrv1546-en/

Read more: https://www.gotokyo.org/en/spot/ev149/index.html

Scenes from Asakusa Kannon-ura Ichiyo Sakura Festival © Tokyo Convention&Visitors Bureau

3.5

3 Reviews

Tokyo Bunkyou-ku Yushima 3-30-1

0338360753

[Gates openHours] 6:00-20:00…

View All

Ganzandaishi Taisai (Daruma Fair)
Date: Early March
Area: Jindaiji Temple
Address: 5-15-1 Motomachi, Jindaiji, Chofu City, Tokyo
Read more: https://www.jindaiji.or.jp/en/

3.5

10 Reviews

Tokyo Choufushi Jindaijimotomachi 5-15-1

0424865511

9:00-17:00

View All

Honzon Jigen-e
Date: Mid March
Area: Sensoji Temple
Address: 2-3-1 Asakusa, Taito City, Tokyo
Read more: https://www.senso-ji.jp/english/

Mt. Takao Fire-Walking Festival (Hiwatari-sai)
Area: Takao-san Yakuo-in
Date: Held annually on the second Sunday of March
Address: 2390 Takaomachi, Hachioji-shi, Tokyo
Read more: https://japantravel.navitime.com/en/area/jp/guide/NTJtrv1204-en
Read more: https://www.takaosan.or.jp/english/asceticism.html

Horseback archery at Asakusa Yabusame Festival © Tokyo Convention&Visitors Bureau

4.0

8 Reviews

Tokyo Hachioujishi Takaomachi 2177

0426611115

9:00-16:00

View All

Asakusa Kannon-ura Ichiyo Sakura Festival (Edo Yoshiwara Oiran Dochu)
Date: Mid April
Area: Around Senzoku and Komatsubashi-dori area, Asakusa, Taito City, Tokyo
Read more: https://www.gotokyo.org/en/spot/ev187/index.html

Kameido Tenjin Shrine Wisteria Festival
Date: Mid April 2023 - Early May 2023
Area: Kameido Tenjin Shrine
Address: 3-6-1 Kameido, Koto City, Tokyo
Read more: https://www.gotokyo.org/en/spot/ev197/index.html

Asakusa Yabusame
Date : Mid April
Area: Sumida Park, Taito City, Tokyo
Read more:https://japantravel.navitime.com/en/area/jp/guide/NTJnews0439-en/
Read more:https://www.gotokyo.org/en/spot/ev026/index.html

Sanja Matsuri in the Asakusa neighborhood

Kurayami-sai Festival 
Date: Early May
Area: Okunitama Jinja Shrine
Address: 3-1 Miyamachi, Fuchu City, Tokyo
Read more: https://www.gotokyo.org/en/spot/ev027/index.html

4.0

241 Reviews

Tokyo Fuchushi Miyamachi 3-1

0423622130

[Gates open time] [4/1-9/14…

View All

Sanja Matsuri (Sanja Festival)
Date: Early May - Mid May
Area: Asakusa
Address: 2-3-1 Asakusa, Taito City, Tokyo
Read more: https://japantravel.navitime.com/en/area/jp/guide/NTJwide0018-en/
Read more: https://www.asakusajinja.jp/english/

Kanda-matsuri Festival
Date: Early May - Mid May
Area: Kandamyoujin Shrine
Address: 2-16-2 Sotokanda, Chiyoda-City, Tokyo
Read more: https://www.gotokyo.org/en/spot/ev029/index.html

Tokyo Chiyoda-ku Sotokanda 2-16-2

0332540753

9:00-17:00

View All

Sanno Festival in Nagatacho © Tokyo Convention&Visitors Bureau

Sanno Festival (Sanno Matsuri)
Date: Early June - Mid June
Area: Hie Shrine
Address: 2-10-5 Nagatacho, Chiyoda City, Tokyo
Read more: https://www.gotokyo.org/en/spot/ev048/index.html

4.0

671 Reviews

Tokyo Chiyoda-ku Nagatachou 2-10-5

0335812471

[Gates openHours] 6:00-17:00…

View All

Bunkyo Hydrangea Festival (Ajisai Matsuri)
Date: Early June - Mid June
Area: in and around Tokyo
Address: 5-31-26 Hakusan, Bunkyo City, Tokyo
Read more: https://japantravel.navitime.com/en/area/jp/guide/NTJtrv1523-en/
Read more: https://japantravel.navitime.com/en/area/jp/guide/NTJnews0036-en/

During the summer months there are various Awa-odori and Bon-odori traditional dance festivals in Tokyo

Mitama Festival
Date: Mid July
Area: Yasukuni jinja shrine
Address: 3-1-1 Kudankita, Chiyoda-ku, Tokyo
Read more: https://www.yasukuni.or.jp/english/festivals.html

4.0

1631 Reviews

Tokyo Chiyoda-ku Kudankita 3-1-1

0332618326

[Nov.- Feb.]6:00-17:00[Mar.-…

View All

Wind chime festival
Date: Mid July to Late July
Area: Nishiaraidaishi Souji Temple
Address: 1-15-1 Nishi-Arai, Adachi City, Tokyo
Read more: https://nishiaraidaishi.jp/en/event/popup/07_july/01.html

Tokyo Adachi-ku Nishiarai 1-15-1

0338902345

[Reception hours for Ogoma, …

View All

Bon Odori (Bon Dance Festival)
Date: Late July - Early August
Area: Tsukiji Hongwanji
Address: 3-15-1 Tsukiji, Chuo City, Tokyo
Read more: https://japantravel.navitime.com/en/area/jp/guide/NTJarea0066-en/

Read more: https://tsukijihongwanji.jp/global/guide/

Performers at the Koenji Awa-odori (Awa dance festival)

Asagaya Tanabata Festival
Date: Early August - Mid August
Area: Around JR Asagaya Station, Suginami City, Tokyo
Read more: https://www.gotokyo.org/en/spot/ev097/index.html

Fukagawa Hachiman Festival 
Date: Early August - Mid August
Area: Tomioka Hachiman Shrine
Address: 1-20-3 Tomioka, Koto City, Tokyo
Read more: https://www.gotokyo.org/en/spot/ev093/index.html

4.0

329 Reviews

Tokyo Koutou-ku Tomioka 1-20-3

0336421315

9:00-17:00 * As a counterme…

View All

Koenji Awa-odori Dance
Date: Late August
Area: Koenji, Suginami City, Tokyo
Read more: http://www.koenji-awaodori.com/language/eng.html

Super Yosakoi Festival 
Date: Late August
Area: Various areas around Shibuya City, Tokyo: Harajuku, Omotesando, Yoyogi Park, and NHK Keyaki Namiki-dori Avenue
Read more: https://www.super-yosakoi.tokyo/eng/

Tokyo Shibuya-ku Yoyogikamizonochou , Jinnan 2

0334696081

Grounds are open at all time…

View All

Shinagawa Shukuba-matsuri Festival
Date: Late September
Area: Tokaido Shinagawa-shuku (the area between Kitashinagawa Station and Aomono-yokocho Station)
Read more: https://www.gotokyo.org/en/spot/ev105/index.html

Scenes from the Ikegami Honmonji Temple Oeshiki Ceremony © Tokyo Convention&Visitors Bureau

Ikegami Honmonji Temple Oeshiki Ceremony
Date: Early October
Area: Ikegami Honmonji Temple
Address: 1-1-1 Ikegami, Ota-ku, Tokyo
Read more: https://www.gotokyo.org/en/spot/ev141/index.html

4.0

290 Reviews

Tokyo Ota-ku Ikegami 1-1-1

0337522331

[Prayer Reception] 10:00-15:…

View All

Log-Rolling Performance (Kiba No Kakunori)
Date: Mid October
Area: Event Pond, Kiba Park, 4 Kiba, Koto City, Tokyo
Read more: https://www.gotokyo.org/en/spot/ev140/index.html

The Tori-no-ichi Fair in Asakusa © Tokyo Convention&Visitors Bureau

< Asakusa Tori-no-ichi Fair >
Date: Early November - Late November
Area: Chokokuji Temple, Ootori Shrine
Address: Chokokuji Temple: 3-19-6 Senzsoku, Taito City, Tokyo
Address: Ootori Shrine: 3-18-7 Senzoku, Taito City, Tokyo
Related articles:
Read more: https://japantravel.navitime.com/en/area/jp/guide/NTJtrv1504-en/
Read more: https://www.gotokyo.org/en/spot/ev090/index.html

Tokyo Taitou-ku Senzoku 3-18-7

0338760010

Admission feeAll day availab…

View All

Autumn Leaves
Date: Late November to Early December
Related article:
Read more: https://japantravel.navitime.com/en/area/jp/guide/NTJnews0572-en/

Hagoita-Ichi Fair
Date: Mid December
Area: Sensoji Temple
Address: 2-3-1 Asakusa, Taito City, Tokyo